Almost a week after it happened, I left Naples with a heavy heart. I keep reliving the moment I said goodbye to Jenica and her 1 year old baby girl, when she asked me: "What do we do now? Where will we sleep tonight?"
I left her in front of the municipality, surrounded by other Romani families left homeless after the eviction of Gianturco Romani settlement.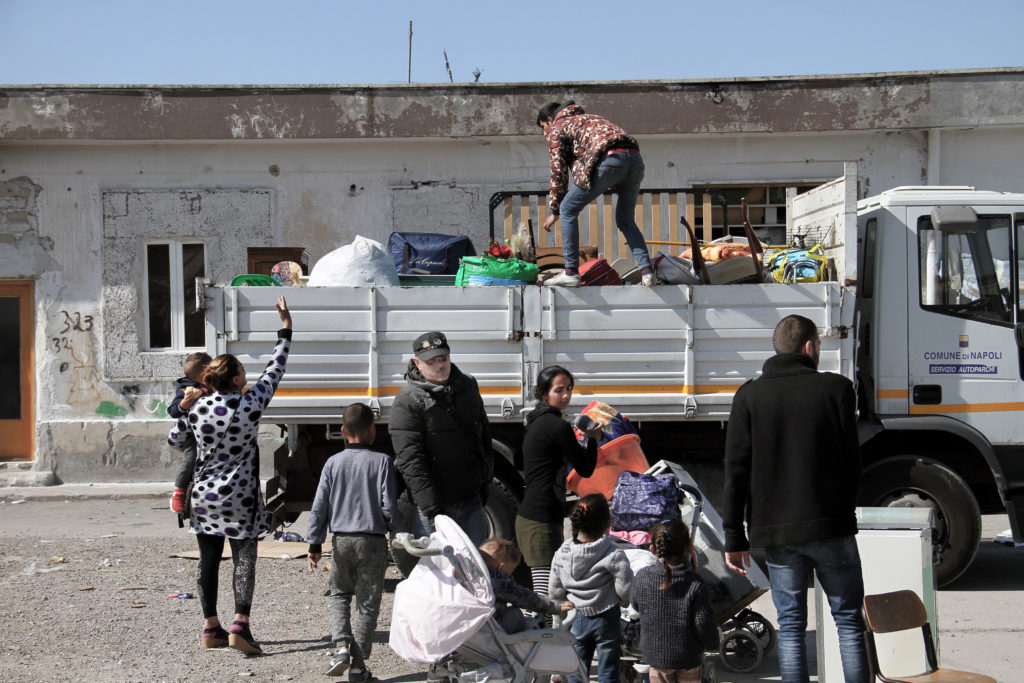 Roma load possessions onto a truck after being forcibly evicted from Gianturco settlement in southern Italy. – © Amnesty International/ Claudio Menna
I was there when the forced eviction started and have spent five days documenting the cruel demolition of the Gianturco settlement and its disastrous aftermath. A blunt violation of human rights, the consequences of which are still unravelling for hundreds of families.
Around 1,300 Romanian Roma made Gianturco their home for years, after being repeatedly evicted from other sites or chased away from camps set alight by unknown perpetrators. As of 7 April 2017, it no longer exists; all that's left is rubble, demolished homes, and a few toys and furniture; pieces of lives left behind.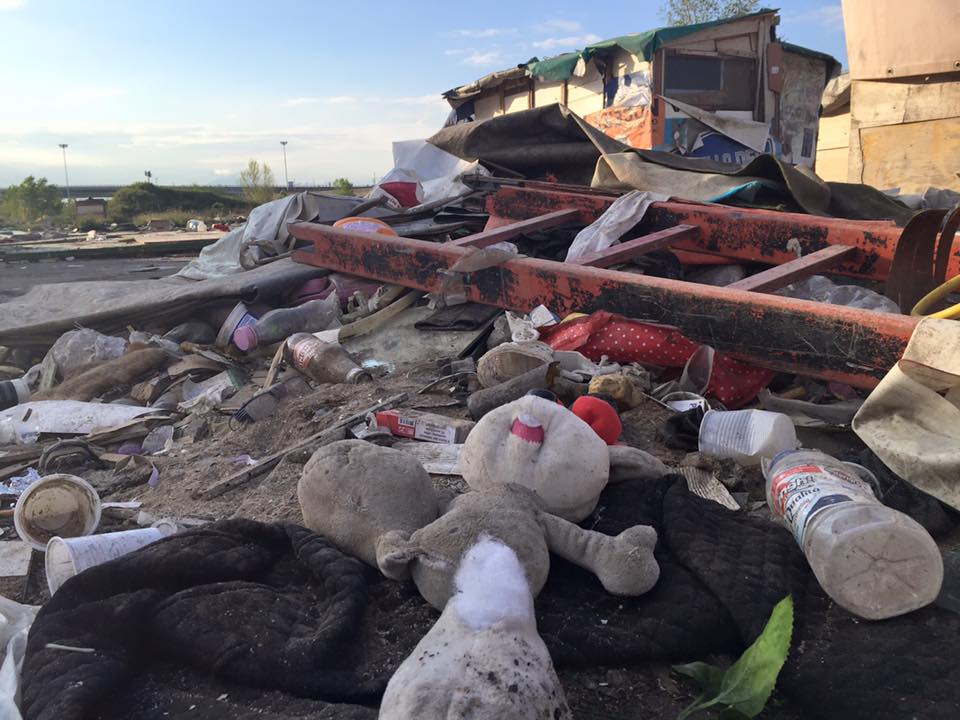 Among the remains of the settlement, a few possessions left behind in the forcible eviction. – © Amnesty International/ Catrinel Motoc
Jenica had spent the days since the forced eviction sleeping in her car with her husband and little daughter.
"I have not been able to wash my daughter in days" – Jenica
Next to her stood Luminita and her family, including her daughter who is 7 months pregnant and had spent the last few nights in an abandoned house and, later, a train station.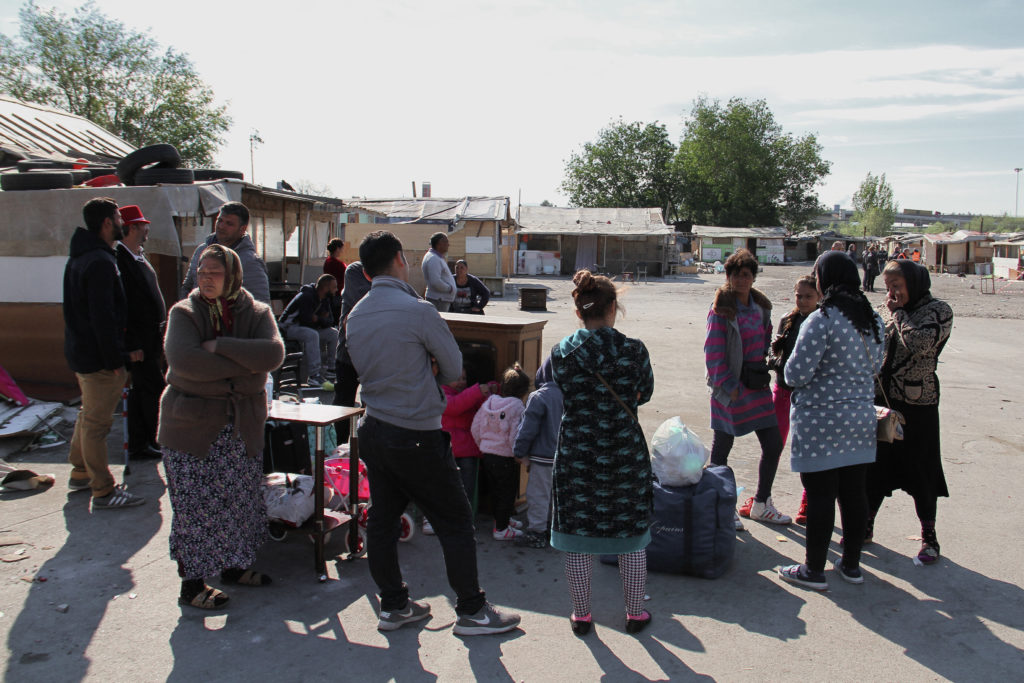 Roma contemplate their next move after being forcibly evicted from Gianturco settlement in southern Italy. – © Amnesty International/ Claudio Menna
Around 200 people were left in the settlement on the day of the forced eviction. Many had left Gianturco already citing harassment by police, and fearing being left homeless if they stayed put.
As I walked past dozens of once-inhabited homes, I found Cristina and her husband gathering few of their belongings.
"I came here to build a life. I have had two surgeries. Where do I go? What do I do?" said Cristina. "We go on the streets", added her husband, answering with the grim reality they now face.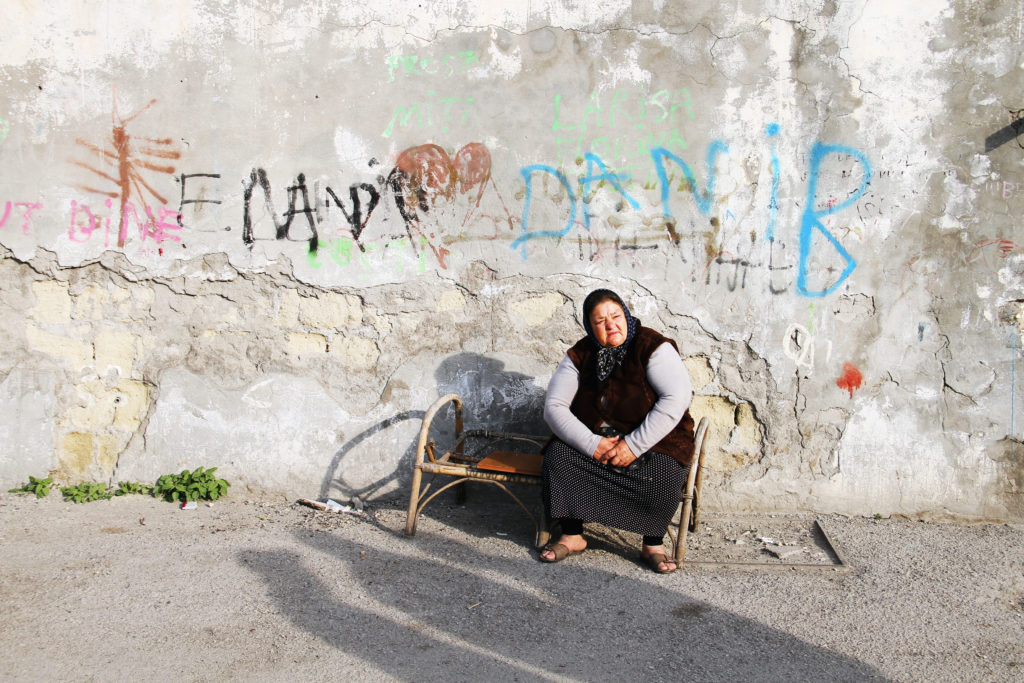 Cristina wonders where she will end up now, facing homelessness after the eviction of the Roma settlement at Gianturco. – © Amnesty International/ Claudio Menna
While watching the bulldozers approaching their home, a little girl told us:
"Here [in Gianturco] we were fine, we liked it…. We don't know how it will be, where they will take us".
No genuine consultation
The court order for this eviction was issued in January 2016 and while the municipality did negotiate extensions of the deadline, they failed to carry out any meaningful consultation with families to explore options and identify suitable alternative accommodation for them.
Representatives of the municipality told me that the Gianturco eviction is like a "natural disaster" and they are addressing an emergency situation – but Romani families had lived in Gianturco for several years, and the authorities have had more than a year to prepare for this.
A mere three families were told they could move to the Grazia Deledda reception centre and around 130 people, out of the 1,300 residents, were relocated to a new segregated camp in Via del Riposo, neither of which I was allowed access to.
Romani people have described the former as a "prison", with several families sharing one room. The latter is comprised of 27 metal containers, about 20 sqm each, shared by an average of 5 people. The sight of the camp is terrifying.
The authority's pledges to work towards inclusion and integration rang hollow as I looked at the fences surrounding the perimeter. There is no such thing here.
A guard will be present around the clock and police forces remain stationed outside. The municipality fears attacks by non-Roma and the walls around the camp stand testimony to the hatred and discrimination Roma face.
No suitable alternatives
The new camp is an inadequate alternative for these families and I struggle to grasp the exact process used by authorities to select those to be relocated, but for some the consequences of the forced eviction are even more severe. Many are now facing homelessness.
It is clear that the authorities do not have any other alternative for the families left homeless after the forced eviction. Some moved into informal settlements, others with relatives – however temporarily. Very few managed to rent a home and several are sleeping rough.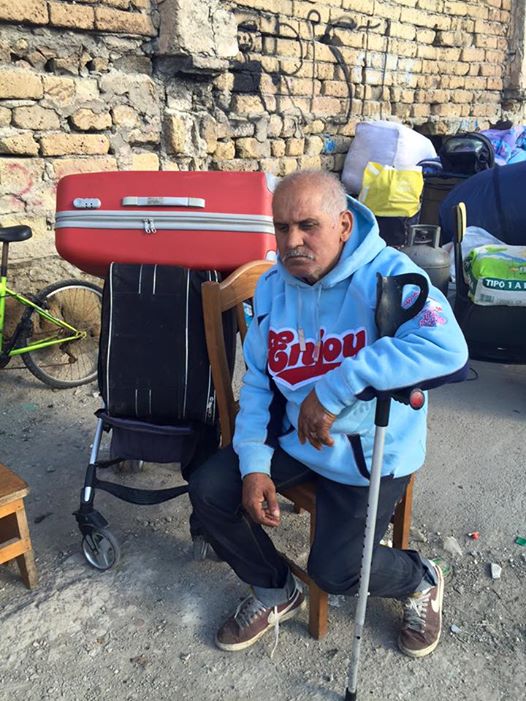 Costica, waiting outside Gainturco camp with no where to go. – © Amnesty International/ Catrinel Motoc
The last time I saw Costica he was resting his aging body on a chair near his suitcase, outside the Gianturco settlement. "Why aren't they giving me a place to stay? I cannot wait here by the gate. I am 70 years old, I cannot sleep on the street."
I wonder where Costica might be now.
Don't leave them homeless
Nobody should be left homeless; Romani people need somewhere to live too. And segregated prison-like camps are not a solution either.
The fight for a new home for the Roma of Gianturco has just begun.
Thousands of activists from around the world have urged the Italian authorities to prevent the eviction. It went ahead, even before the official deadline, ironically on the eve of International Roma Day. But this will not be forgotten. The fight for Roma rights continues.