Register today for the Irish Life Dublin Marathon 2023 and support our fight against injustice across the globe.
Join Team Amnesty for the 2023 Irish Life Dublin Marathon on Sunday 29th October 2023 and fundraise to defend human rights for all.
The marathon's official lottery has now closed and tickets have already been allocated. The good news is that you can guarantee your place by joining Team Amnesty!
To gain a free place with the Amnesty team, you'll need to pledge to raise a minimum of €1,500. All you have to do is register your interest here. Let us know a little bit about yourself, why you want to participate, your pledge amount and how you'll go about raising this amount.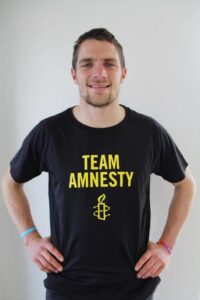 Of course, you'll get the T-Shirt and we'll be on hand to support you all the way on your fundraising journey.
Make sure to register early!
Register your interest
Race date: Sunday 29th October 2023